Hosted by the loverly ladies over at
Book Soulmates
, R.A.K (Random Acts of Kindness) is a wonderful way for book lovers to connect and share in their love of the written word!
This month, I had the pleasure of Gifting a copy of:
to Michelle at
I very much enjoyed the opportunity to randomley select a book lover
from 'round the blogosphere to
receive a "surprise" on October 25th!
I really hope you like this adventure, Michelle!
*~*~*~*~*~*~*~*~*~*~*~*
So c'mon and join the fun!
Click the RAK button and get yourself signed up!
Here's my "RAK"!
Lol, wanna show me yours? Share the link below!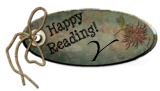 Reviews are written on a volunteer basis and are only the opinions of the individual review author and do not necessarily reflect the opinions and/or views of the author, publisher, or public readers in general
Copyright © YzhaBella's BookShelf 2010-11