Gone Reading...
Well, not really. But, I would definitely rather be reading than dealing with the crud life has been dishing out lately.
Thanks for stopping by and I truly hope you've been taking the time to "
Stop and Smell The Pages
" because you never know when that stupid thing we call "life" will pile it all on and get in the way of all your fun!
YzhaBella's BookShelf is temporarily on hiatus. I thank you all for your readership and I hope to be back soon!
Hugs!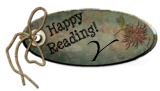 Copyright © YzhaBella's BookShelf 2010-12