Please leave a meaningful comment about this review or a question for other readers
Use Rafflecopter Form in this post.
Don't forget to check out ALL THE POSTS for more chances to enter!
~*~*~*~*~*~*~*~*~*~
I though I'd prepare my review a little differently this time around. Instead of presenting a detailed overview (which may inadvertently reveal some spoilers), I though perhaps it might be neat to talk about the impression one of the leading characters left with me. Hopefully, through this impression, I will be able to share with you the latest masterpiece in an amazing series written by an author who has quickly risen to the topmost tier of my "Authors to watch for" list!
With the third installment of the Changeling series, Dani Harper continues to share her passion for the paranormal with another terrifically heart fluttering adventure. With release day just a few days ago, I'll refrain from sharing too much detail but, I will tell you that Kenzie Macleod is one of the best leading ladies I've read in a long time!
On the heels of a violent memory from her childhood, there's no doubt Kenzie has issues she's yet to come to terms with but, to me, she is the epitome of what a victorious woman would be. While not entirely healed, she is extremely intelligent, determined, compassionate and completely dedicated to stopping history from repeating itself. Kenzie bares the damaged soul of a hunted cub. And, even though she is not aware of it just yet, there is a part of her heart that remains open to the healing that only a true love can fill. Even with her emotional troubles, Kenzie has a tenderness and warmth at her very core that makes her a prime candidate to gather her powerful arms around a child who needs her and to freely offer said child the gentle protection and understanding only Kenzie can offer.
To reiterate: In
Dani Harper
's
Changeling series
, "
readers will encounter a realistic and endearing cast of characters from within a super exciting reading adventure that will leave you fully satisfied
".
~*~*~*~*~*~*~*~*~*~
Changeling Dawn
, Changeling #3
by
Dani Harper
Brava
December 27, 2011
ISBN-10: 0758265182
ISBN-13: 978-0758265180
Blurb
Run
Shadow and moonlight merge beneath her bare feet, the forest floor blurring as she flees the dogs and torches. Werewolf, monster—those are the names given her kind by the humans who hate them.
Hunt
Kenzie Macleod has spent her whole life hiding what she is, and she's not about to open up to any man, even one as powerfully attractive as wildlife expert Josh Talarkoteen. But legend says that a Changeling cannot escape the call of her true mate, even in the wilderness of backcountry Alaska.
Mate
An isolated archeological site, a terrified Changeling cub, a shadowy research facility—as Kenzie and Josh face the ultimate betrayal, his obsidian eyes promise untold pleasure and hint at dark secrets of his own…
Find Dani on the Web
a Rafflecopter giveaway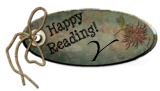 Reviews are written on a volunteer basis and are only the opinions of the individual review author and do not necessarily reflect the opinions and/or views of the author, publisher, or public readers in general
Copyright © YzhaBella's BookShelf 2010-11