Hosted by the loverly ladies over at
Book Soulmates
, R.A.K (Random Acts of Kindness) is a wonderful way for book lovers to connect and share in their love of the written word!
What could be more fun for a Book Lover than to unexpectedly receive a bookish treat in the mail? You never know! You might just be the lucky ducky who gets that book you've been "dying" to have!
Rules (from Book Soulmates)
:
Sign up each month you'd like to participate in.
Show off your participation! Grab one of the buttons available :)
Create a wish-list and post it in the Google Doc located in each R.A.K post for the month. Post on your blog, Amazon, where ever as long as there's a link to it.
If you choose to do a R.A.K for someone, check out their wish-list and contact that blogger for their address.
At the end of the month, SHOW US YOUR R.A.K! Make a post saying 'Thank You' to whoever granted one of your wishes :)
OPEN TO EVERYONE!
Let's keep our International bloggers in mind and in our hearts.
Remember, there's always the
Book Depository
and they offer FREE shipping!
*~*~*~*~*~*~*~*~*~*~*~*
So c'mon and join the fun!
Click the RAK button and get yourself signed up!
Here's my "RAK"!
Lol, wanna show me yours? Share the link below!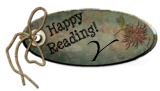 Reviews are written on a volunteer basis and are only the opinions of the individual review author and do not necessarily reflect the opinions and/or views of the author, publisher, or public readers in general
Copyright © YzhaBella's BookShelf 2010-11